References
For KT Labradors and Owner Trixie Cogar
5/23/14
Trixie,
Boy are we enjoying Pearl (opal/mav). She makes us laugh all day long. She is doing real well with her training, making progress. Thanks again for a wonderful friend and companion.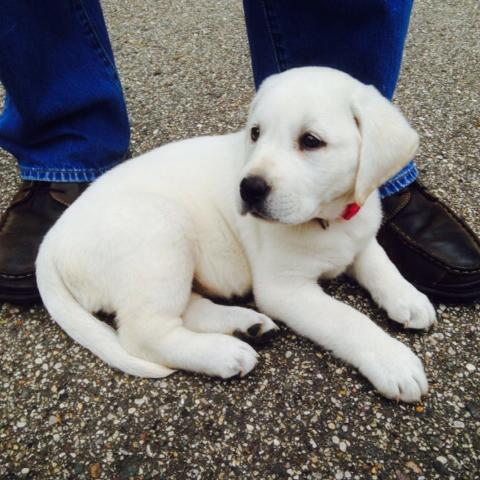 Rick G, MI
5/22/14
Sam (angel/tank) at 10 weeks. He does great on walks, tells us when he needs to go out, takes his boy to school everyday and cries when we leave, plays with the cats very gently, loves flower beds, and even is doing an awesome job with the sit command. He is pretty amazing! Thankful for this boy!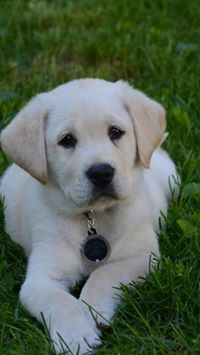 Mandy Ruggerio, MI
4/8/14
Boomer (Serenity / Mav) is growing like a weed. More than doubled his weight. 20 pounds today for his puppy check up. Trixie we can't thank you enough for this special "little" guy we love him so much!!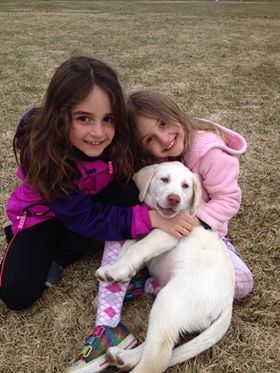 Erika Burkhardt from MI.
3/16/14
Kathy Patton and I welcomed Zoey into our lives today. She was so peaceful on the 6 hour ride home and is happily figuring out her new surroundings...thanks so much
Trixie Cogar
for all she did for us and Zoey!!
3/16/14
Trixie, I thought I would let you know we just love Gabby, she is a
sweetheart and very cuddly. She has adjusted wonderfully. You really did
a excellent working with the puppies so they aren't stressed when they
go into a new home. We will keep you updated on her progress.
Thanks again for raising such sweet puppies.
Christine C
3/8/14
I would like to give a big thank you to Trixie Cogar . Your every bit the person I thought you were. Sweet and a personality to match. She and Summer gave me the most wonderful gifts I've ever received, my beautiful boy Jayce. He's perfect...he's definitely a little lover. He slept all the way home. I stopped at a McDonald's parking lot to see if he had to go potty and this man in a truck stopped me and said "Can I take a picture of this your beautiful puppy". Even srangers know. Thank you Trixie, you have truly brightened my life and brought joy to my soul.
Forever grateful,
Trudy L
Bellville, MI
1/3/14
I just wanted to send a quick message to thank you for the care you put in to what you do. Also to tell you how much I love that crazy puppy and I have never really been a dog person( which is weird) but after losing my mom this summer he really has seemed to fill that void...again I am thankful we found you and have our Finn :-)
Holly B.
West Branch, MI

Little trip went to puppy class tonight at the vets ... This is his 2nd class. He is doing so good, tonight was sights and sounds night, he wasn't afraid of anything! Clippers, toys, walkers, wheelchair, bicycles, exercise balls ... He even rode on a skateboard!!
Oh ... Did I say little trip? This sweet little boy weighs 35.3 lbs at 12 weeks! In love this boy to pieces!!! Thank you for allowing him to join our family!!
Jodi D
Lambertville, MI

11/22/13
We named him Harley. He is the greatest Pup and we love him more every day. He has the pooping thing down but can't seem to let us know before he pees. Took him to the vet this week for deworming and he weighs in at 16 lbs. He was 9 lbs. the 1st time we brought him in after we got home. Very affectionate and playful puppy. We couldn't be happier. Thank you for him.
Larry S in IL

4/23/13
I am so impressed with Atlas. We have only had a couple piddles and none of the other. Our house is Not quiet with 5 kids running around and he sleeps right through it. You do an Awesome job with your goobers!
Robbyn N
Michigan

4/23/13
Quick update on our sweet lady Zulu - she is hands down the calm and most affectionate puppy we have ever seen. Everyone that meets her just adores her. And she and my son are best friends! Thanks again, Trixie!"
Brittany J
Michigan


3/28/13
I Can't express enough how happy we've been with our puppy and the breeder. If anyone is looking for a lab, KTL is the place to go!"
Josh G
Jenison, MI

11/23/12
Hello!
We got Jack our beautiful Golden Lab from you several years ago... He is the most gentle dog. We have a 18 month granddaughter an Jack and Addison are best friends. He has taken the job as her personal protector. Also, my Dad passed away in June an Jack has licked away many tears, he is such a good friend. Just wanted you to know how grateful I am for you and the puppies you raise.
Happiness,
Belinda M
Sterling Heights, MI

9/22/12
Vader from Molly's litter. We love him soo much! POTTY trained, sits on command, and enjoys 2 -4 block walks a day. Hes a great pup! THANK YOU!
Krisit C
Birmingham, MI

9/13/12
We already love our new baby girl and named her Miss Maggie Mae. She is doing so well and is such a great little dog. Thank you SOOO much.

Melanie C
Fremont, MI

9/12/12
Hi there. Just wanted to let you know that he arrived safe and sound and is settling in nicely. He's gorgeous. We're going to call him Grady. Thanks again!
Jackie D
Chesapeake, VA

9/12/12
We r home she is workin on fitting in! Shes Wonderful! I think we're naming her nicky
But just thinking bout it thanks!
Kathy J
Afton, NY

9/8/12
Trixie
Just wanted to say thank you!!! We are truly in love. We named him Booker and he has fallen head over heals for the boys and they boys couldn't be happier. So far so good. He is such a happy loving little guy.
Have a safe trip home. We will keep in touch.
Shannon H
Midland, MI