Thought we would send you some updated pictures of Mani before the new year. He is doing great, he knows sit, down, shake and we are working on stay. We could not have asked for a better puppy! The vet says he is healthy and looks great, we go for our third round of shots in a week.

Have a Happy New Year,
Amanda and Matt

Just wanted to say HI! Let you know that we Love Cooper and he is DOING very well! He is potty trained now and knows how to sit. We are working on shake and stay yet but he is coming along. At his last appointment he weighed in at 22 pounds! Getting to be a big boy. I think he is looking more and more like Libby every day... What do you think?
Hope all is well with you and your kids.
~Emily

Updated pictures from Lori C of Zack aka Moose. Thanks for the awesome video clip!!

Hi ,
Jake is doing great. He appears to already be house broken, that is great! The children are in love with the new addition to the family.
I just want to confirm Diane would be dropping Jake off Sunday, Dec 28th around 1 pm and picking him up on January 1st (New years Day) if you will be available, if not she will pick Jake up on January 2nd around noon. Please let me know what works for you.

Thank you so much for helping out with this situation. I would have had to wait another week to pick Jake up if we didn't work this out. Jake made Christmas really special for everyone.

Bob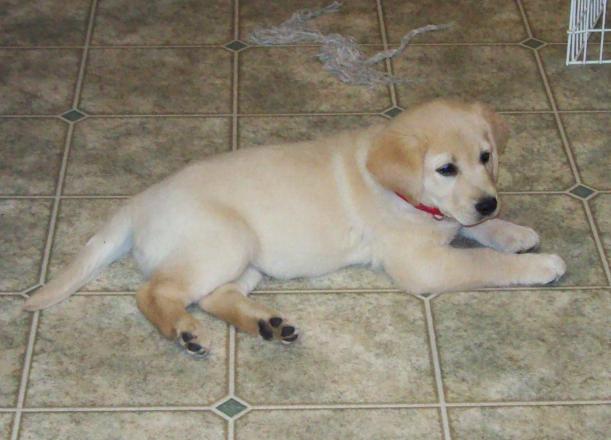 Hi ,

I wanted to thank you for Tucker (Alex). He is very much loved and is getting very used to being spoiled. It was a little overwhelming at times for me but it only took me a couple of days to adjust and we are getting along perfectly now. He can be very playful at times, loves the outdoors and likes to eat leaves but when its time for him to sleep he sleeps hard. It's almost impossible to get him to wake up at times. I am worried about him today because he will be home all day by himself but he likes to sleep a lot during the day so hopefully he will do just that.

I took him to the vet last Monday and he got a good checkup (he weighed in at 14.2 lbs). He goes back this Friday for his vaccination
Thanks again,
Niki Marsh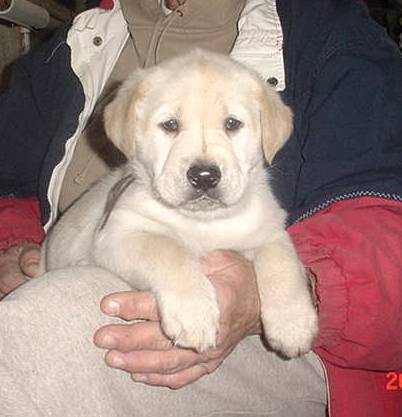 We made it home. We did get stuck in a
snow drift
on 38TH street and someone stopped and pulled us out. Can you tell me what shots Megan had so I can tell the vet. Do I need to register her for her chip? Does she have shot records that you can send me? We just love her she was great on the
long ride home
.
Thanks,
Julie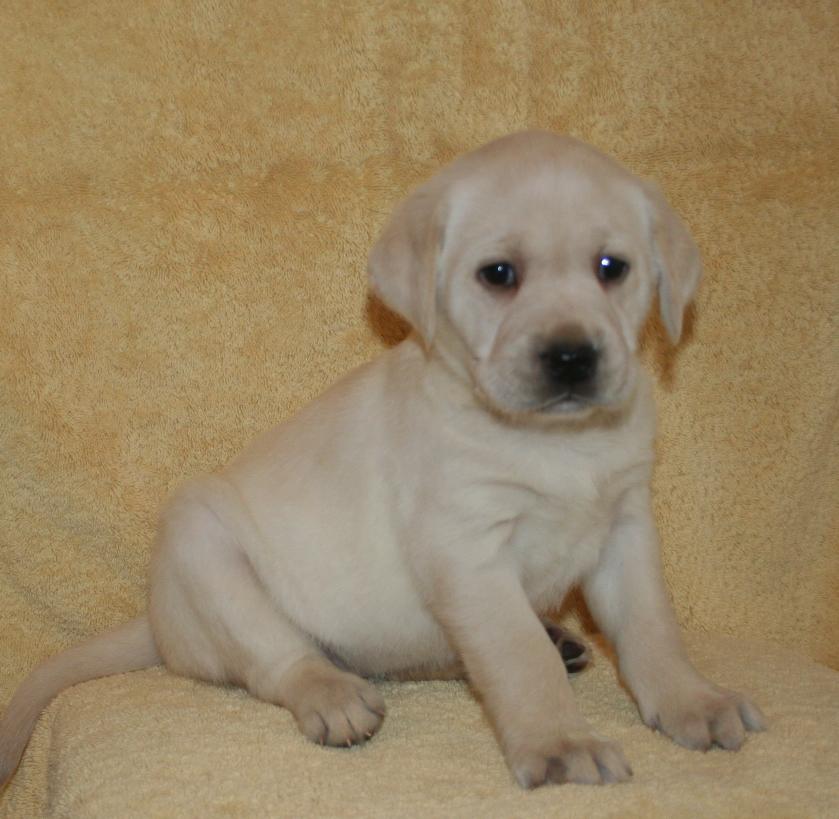 12/17/08
Hello,
Everyone here is doing great! Brody has become a great addition to our family. He is already potty trained and goes to the door and whines if he needs to go out. He can already sit on command and is working on shaking. He comes most of the time when he is called. He does know his name, he just chooses not to listen all of the time (typical toddler)!
He was checked last week and was already 21 pounds, and I think he is probably 25 now. When we were at the vet last week, they did say that his umbilical cord hernia has gotton much bigger and they are going to fix him next month, when he is 3 months old. They are concerned with how big it is getting and they don't want to wait until he is 6 months.
Thanks for checking on us, and we will send some pics soon.
Steph

1/22/09 Reference:
Our experience with KT
Labradors
was fantastic! We highly recommend using them as your breeder for your addition to your family. Our little boy,"Brody" has been wonderful! He is the best dog we have ever had. His disposition is perfect, he is a natural with kids of all ages. He makes the best family pet. He is only 4 months old and is knows his name, completely potty trained, sitting, kissing and shaking. He had been a breeze to train and to deal with. We wouldn't think twice about doing it again with KT Labradors.
Please feel free to contact us for any further information.